It's time for another edition of What I Ate Wednesday. Like the past two weeks I am sharing what I ate yesterday (Tuesday).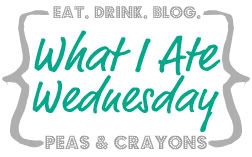 Per usual I had overnight oats for breakfast. With peanut butter and TJ's reduced sugar strawberry preserves.
I was SO exhausted this morning I could have easily fallen asleep at my desk. So I bought a Coke from the vending machine. Such a bad habit, but I don't feel that exhausted often and I needed something to perk me up.
The soda made me want salt (I actually think I was really dehydrated) so I had a serving of peanut butter filled pretzels.
Around 11:30 I had a TJ's fruit and nut trek granola bar.
I then headed over to the Javits Center for Book Expo America. My company has a booth and meeting room and I had some meetings with customers in the afternoon.
The best part about the conference was that I got to get Rules of Civility signed by the author. I read this book at the beginning of the year and I loved it, it's probably one of my all time favorite books. I made a total ass of myself in front of the author, but it was worth it.
For lunch, around 1:45 I had half a turkey sandwich (unpictured, I ate it before I remembered I was doing this, oops) with lettuce, tomato, and cheddar cheese, salt and vinegar chips, fruit, and a quarter of a black and white cookie.
Then I decided I was still hungry and had more fruit and another quarter of a cookie (this is a smaller plate than the one I ate my lunch on).
Then at 4:30 we had champagne in our booth, this glass x3.
And I had a few (individually wrapped) Swedish fish throughout the day.
I have zero food in my apartment and no time/motivation to go grocery shopping so I ordered in Thai. This is half an order of the spicy basil rice with chicken dish and half an order of veggie dumplings. It was delicious! And I have the leftovers for dinner tomorrow.
Finally I had some strawberries from the Greenmarket and two halves of my Georgetown cupcakes, it's a salted caramel and a chocolate lava fudge.